C40 Cities connects more than 90 of the largest cities in the world, representing more than 650 million people and a quarter of the global economy.
Created and run by cities, C40 focuses on addressing climate change and driving urban action that reduces greenhouse gas emissions and climate risks. The current president of the C40 is the mayor of Paris, Anne Hidalgo, and the mayor of three New York City periose, Michael R. Bloomberg, is the chairman of the board.
We are currently on a trajectory that will increase average global temperatures by 2 degrees above pre-industrial levels by 2100. If these emissions are not appropriately addressed, cities will become increasingly vulnerable to the adverse impacts of climate change.
In order to avoid this scenario, the 2015 Paris Agreement commits signatories to pursue efforts that will limit the average global temperature increase to less than 1.5 degrees above pre-industrial levels. Cities could deliver around 40% of the savings needed to achieve this ambition.
To achieve these results, cities will require the following:
That local governments coordinate the millions of producers of individual emissions to change their development habits in key sectors.
Mobilization of investment, innovation and creativity of the private sector in carbon-neutral ways of life.
Cities will need the new buildings to be as close as possible to zero carbon and also high levels of adaptation for existing buildings, which account for more than 50% of emissions in C40 cities.
14 cities have identified 31 underutilized spaces to redevelop such as empty plots, abandoned buildings, an old airport, historic mansions, markets, an abandoned incinerator and landfill.
The 14 cities are: Auckland, Chicago, Houston, Madrd, Milan, Montreal, Oslo, Paris, Portland, Reykjavik, Rio de Janeiro, El Salvador, San Francisco and Vancouver
Through this contest, the C40 and the participating cities invite architects, promoters, ecologists, neighborhood groups, innovators and artists to form creative teams and compete to try to transform these sites into new places of sustainability. They must also demonstrate how innovative solutions can be achieved to combat climate change and generate benefits for local communities.
During the contest, candidates had to face 10 challenges, where they were motivated to design sustainable, zero-carbon and resilient projects.
The 10 challenges are:
Site energy efficiency and supply of clean energy
Sustainable materials, circular economy & waste
Low-carbon mobility
Climate resilience and adaptation
New green services for the site and neighborhood
Green growth and smart cities
Sustainable water management
Biodiversity, urban re-vegetation and agriculture
Inclusive actions and community benefits
Innovative architecture and urban design
Some solutions from the winning teams for each challenges were the following:
Site energy efficiency and supply of clean energy:
Passive design: insulation, solar orientation, solar protection covers, natural ventilations design.
Energy efficiency: low-energy demand appliances for heating, cooling, hot water, lighting and ventilation.
Low-carbon production: solar photovoltaic or solar thermal, geothermal sources, waste to energy facilities, grey water to energy facilities, Power Purchase Agreements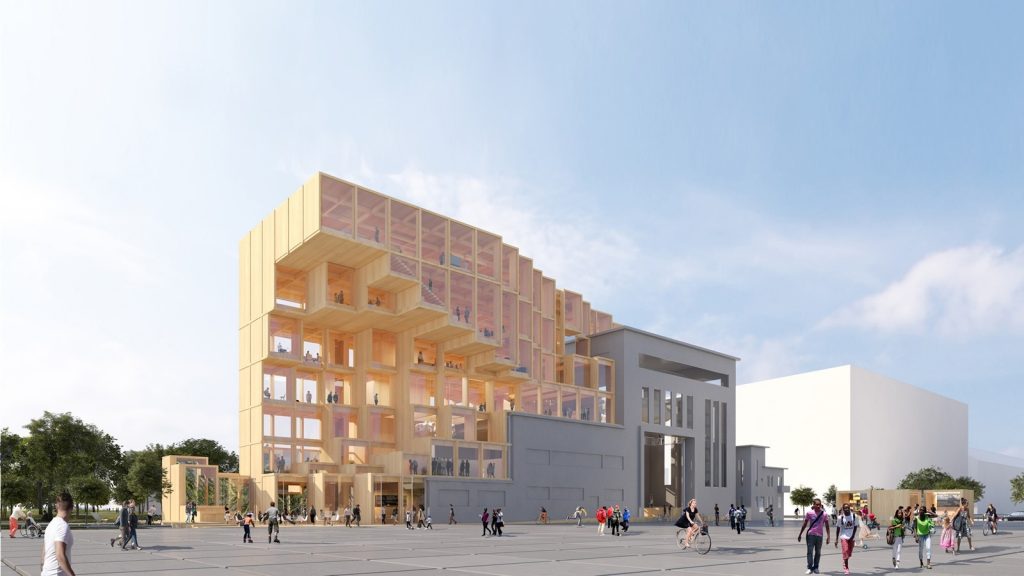 Sustainable materials, circular economy & waste:
Material type: wood instead of concrete or cement structures, recycled steel and low-carbon insulation materials such as glass wool instead of polystyrene.
Material origin: locally sourced recycled demolition materials to be reintegrated into the new building.
Waste management: compost areas for organic waste, recycling facilities on site, waste to energy systems.
Low-carbon mobility:
Low-carbon transport incentives: walking and cycling infrastructure, links to public transport networks, electric vehicles, rest areas, shade, drinking water areas.
Carbon intensive transport limits: reduction of parking options and spaces, speed restrictions, financial support for alternative transport routes, route optimization.
For more information about the solutions generated, click here