Construction plays a huge factor in the environmental impact, because of this key players such as architects, civil engineers and others from the construction industry have a responsibility to adapt sustainable practices.
According to research done by Kleiwerks, building material, such as concrete, aluminum, and steel, are directly responsible for "large quantities of CO2 emissions" due to high contents of "embodied energy content", with 9.8 million tons of CO2 generated from the production of "76 million tons of finished concrete in the US."
In this case, the United States have been implementing a rating system called 'Leadership in Energy and Environmental Design (LEED) approved by The United States Green Building Council. In this qualification they rate the environmental performance of a building and encourage developers to apply sustainable designs.
In the following article we will be showing you examples of houses that have been made with this in mind, eco-friendly homes.
Houses:
2717 Broadway St, San Francisco, California
Listing price: $40 million
Seven bedroom, 12 bathroom house with a view of the city.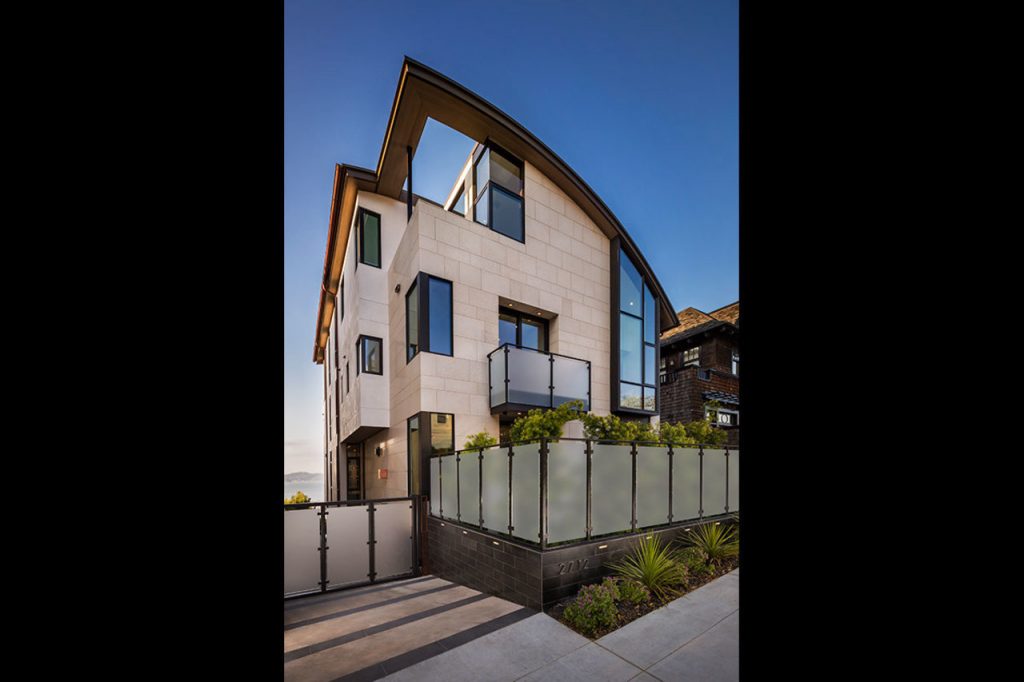 Characteristics: Solar heat and power, a rainwater collection system that stores up to 5,100 gallons of water underground, double-paned windows and closed-cell foam insulation, which keeps water and air out.
620 S. Ocean Blvd., Manalapan, Florida
Listing price: $23.85 million
12,305 square foot, seven bedroom, 10 and a half baths in the main house and guest house. Overlooking 150 feet of oceanfront. It also has 2,000 gallon aquarium, as well as "water floors" that are glass floors that reveal the aquarium below.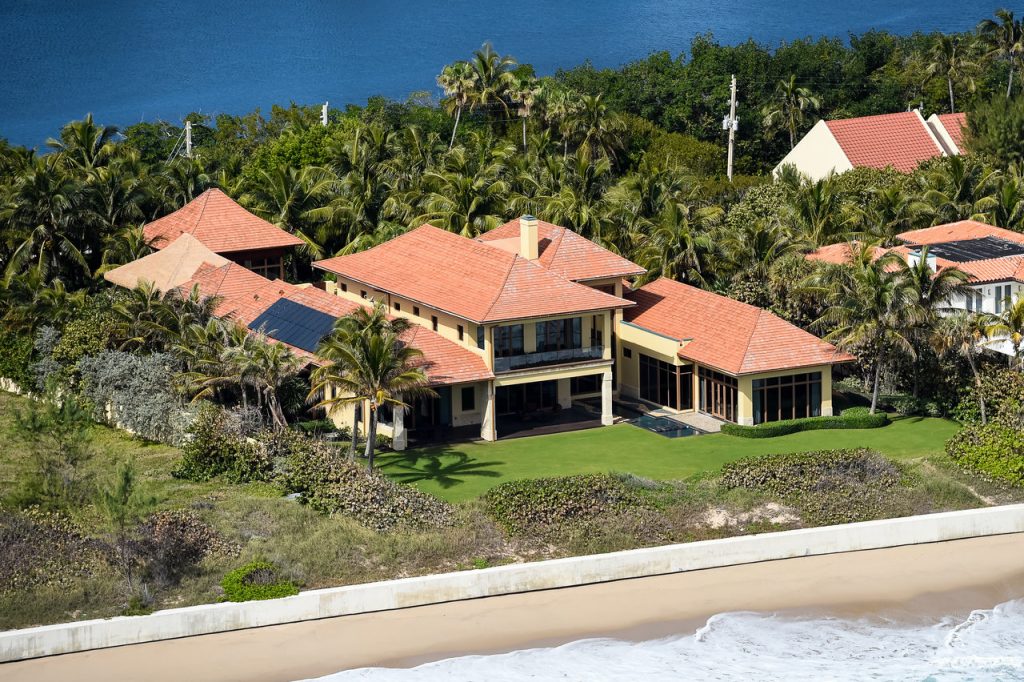 Characteristics: Certified "green" by USGBC, energy efficient appliances, rainwater collection system, air purification systems and solar panels. Because of this, the home won two eco-friendly certificates from the Florida Green Building and the Energy Star for Homes programs.
800 Corte Madera Ave., Marin County, California
Listing price: $25 million
Designed by Sim Van der Ryn, leader in sustainable architecture and the architect of California's first energy – efficient and climate- responsive building.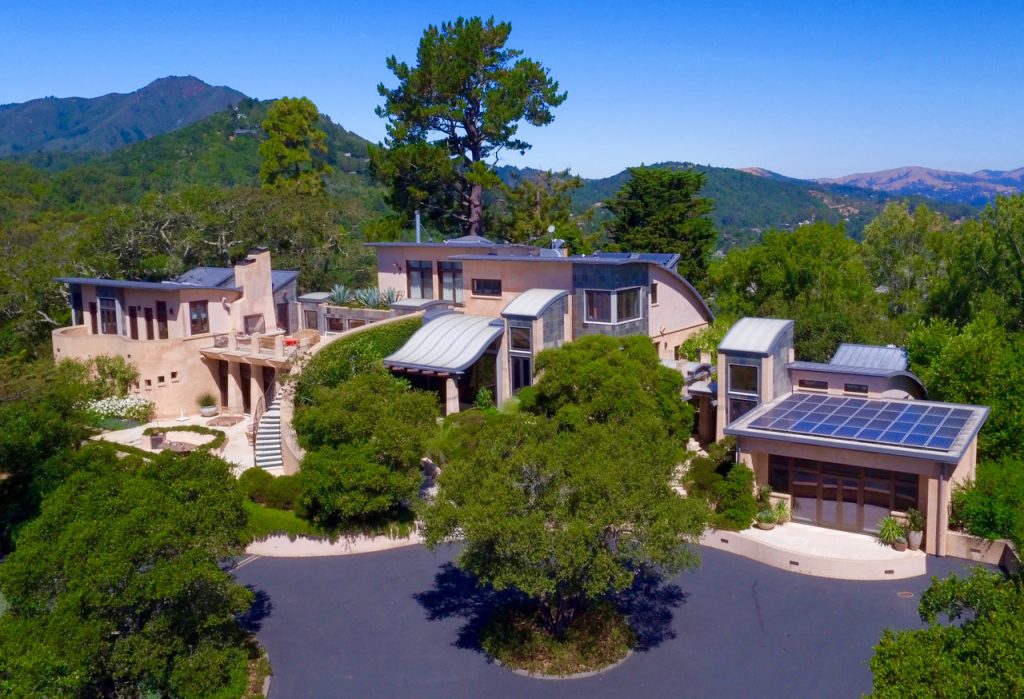 Has a main residence over two levels with a master suite located in its own wing, three additional bedrooms in a separate wing. The main residence also has a professional music studio, home theater, integrated fitness center, wine cellar and a racquetball court.
7 bedroom, 5 full and 9 partial baths, 13,635 square feet.
Characteristics: rammed-earth exterior, solar paneled roof. organic garden where tomatoes, lettuce and artichokes grow.
2 Pauls Lane, Southampton, New York
Listing price: $7.995 million
7 en-suite bedrooms with 8 and a half baths. The first floor has a grand entry with a high ceiling, a chef's kitchen, a walk-in pantry, a dining room with a butler's pantry, and a living room connecting to the study.
The lower level includes an open floor plan with an laundry room, 1-300 bottle wine cellar, recreation space with wet bar and media, an en-suite bedroom, and custom designed natural stone and wood finishes.
Leed certified mansion, energy efficient and hosts multiple internet-controlled app-based technologies.
1547 Tower Grove Drive, Beverly Hills, California
Listing price: $12.5 million
5,300 square feet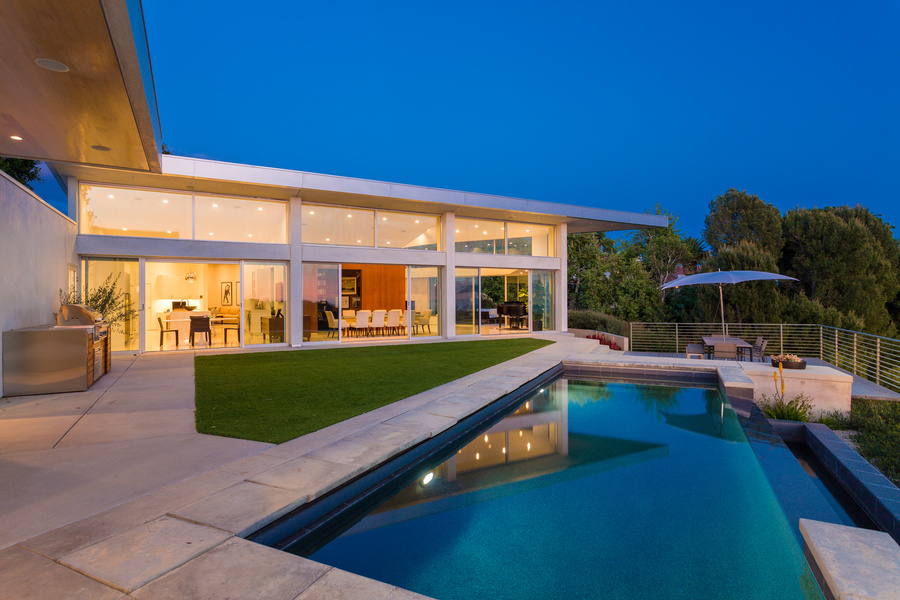 Floor to wall ceiling windows, master bedroom with a view of the infinity pool and city lights, a gourmet eat-in kitchen with a marble island. Three-car garage, two dens, a family room and a gym.
Characteristics: solar panels, electric car charging stations, hospital grade air-filtration system, rainwater collection systems and drought resistant landscaping.
17876 Vicino Way, Pacific Palisades, California
Listing price: $5,795 million
3 bedroom, 3 bathroom house that features the ocean, coastline, city views and an open floor plan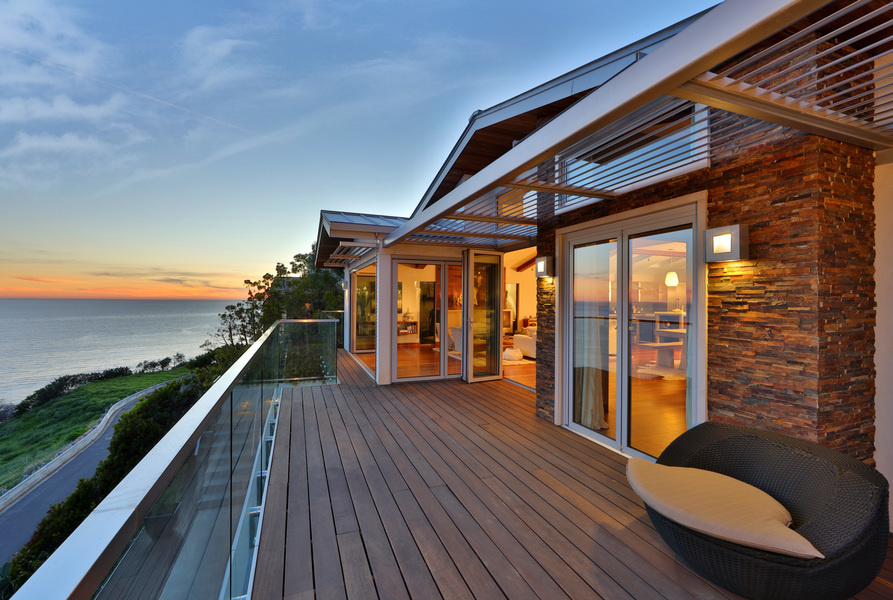 Oceanfront mansion built with sustainable, efficient and healthful materials such as ipe wood, bio-lime plaster, recycled glass, radiant heat, P.V solar and LED lighting. It has a platinum Leed certification, the highest rated.
Sustainble materials:
Ipe wood: they're a naturally resistant to rot, abrasion, weather and insects, it's almost twice as dense as most wood and five times harder. It can last up to 75 years
LED lighting: "light emitting diode" conducts the energy in one direction.
Bamboo: If you would like to read more, we wrote an article click here
Recycled glass, steel, wood etc.
Straw bales: for insulation, straw can be harvested and re-planted easily with minimal environmental impact.
Sheep's wool: also for insulation In walls, ceiling and attics.
Mycelium: utilizes the root structure of fungi and mushrooms. It can grow around a composite of other natural materials in molds or forms then air-dried to create lightweight and strong bricks (or other shapes)
Certificates, awards and the current shift of ideology have created changes in the industry that will benefit the planet in the upcoming years. There needs to be a continuous evolution to reduce the environmental footprint that the industry is creating. All players need to be held accountable to a certain standard.
Resources:
CUENIN,Paul. What is Ipe Wood? [online] East teak. Blog (2/6/2017) [accessed 20, September, 2019] available by clicking here
SNOOK. Jenny. How does construction impact the environment [online] Gocontractor. [accessed 20, September, 2019] available by clicking here
PECKENHAM, Emily. 11 green building materials that are way better than concrete. [Online] inhabitat (2/8/2016) [accessed 20, September, 2019] available by clicking here
PYZYK, Katie. 5 of the world's most eco-friendly building materials [online] SmartCitiesDive (2/7/2018) [accessed 20, September, 2019] available by clicking here
WILD, Megan. The most eco-friendly home construction materials [online] Mother Earth News (20/2/2018) [accessed 20, September, 2019] available by clicking here
YU, Yifan. Luxury and Green: 8 eco-friendly homes that embody the earth day spirit. [online] Mansion global. (21, 4, 2017) [accessed 20, September, 2019] available by clicking here